You know the sounds–they've kept you up at night. The scratching, the licking, the chewing. Your dog is itching like crazy and it's driving you both up the walls! Chronic or severe itching and scratching in dogs can have many causes. Whether you've been asking yourself, "Why is my dog so itchy?" for a few days or for a few weeks, it's time to get some answers. That's why we created this list of natural remedies for itchy dogs!
Before you check out the list, keep in mind that some dogs may require a checkup by a licensed veterinarian for severe itching issues. If the itching your dog is experiencing has been ongoing or if your dog is developing self-inflicted wounds due to itching, it's time to visit the vet!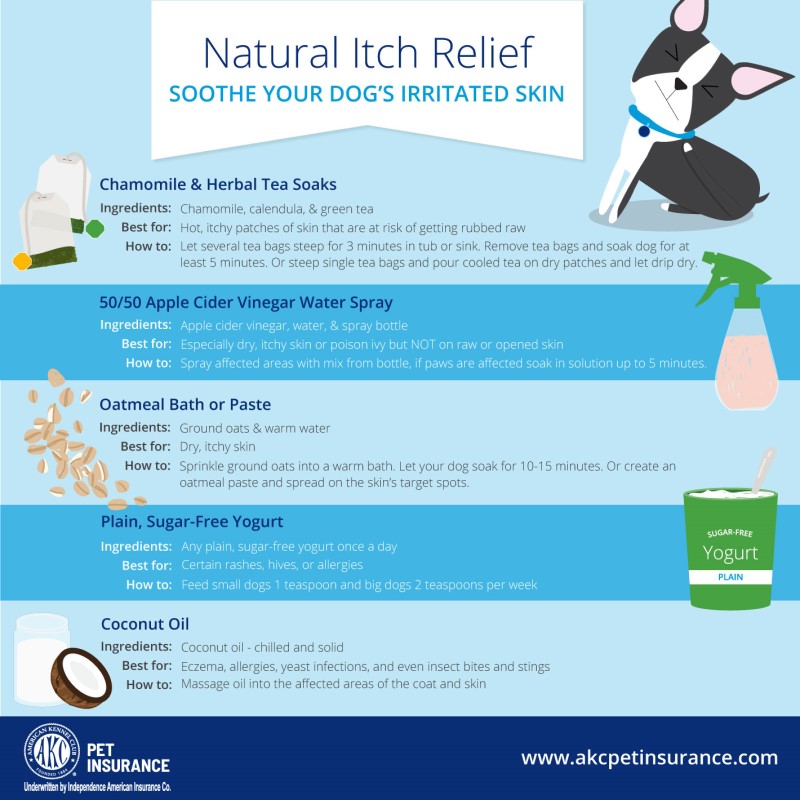 Chamomile and Herbal Tea Soaks
Chamomile, calendula, and green tea have properties that soothe and cool irritated skin and reduce inflammation, making them great additions in a dog bath for itchy skin. These soaks are best for dogs who have hot, itchy patches of skin that are at risk of getting rubbed raw.
If your dog is inconsolably itchy all over, fill up your tub or sink with warm water and let several herbal tea bags steep for three minutes. Remove the tea bags and let your dog soak in the bath for at least five minutes.
Alternatively, for smaller, itchy patches, steep one or two tea bags in about two cups of hot water. Once the tea has cooled down, pour it on your dog's skin as a quick fix, letting it drip dry without rinsing.
Apple Cider Vinegar for Itchy Dogs
Apple cider vinegar is a natural, safe soother for especially dry, itchy skin. The antiseptic and antifungal nature of apple cider vinegar makes it a great form of relief from poison ivy but NOT on raw or opened skin. If your dog has itched their skin raw, this solution will sting the exposed wound.
To avoid getting vinegar in any open cuts, fill a spray bottle with 50% water and 50% apple cider vinegar to target affected areas. If your dog walked through a patch of poison ivy, oak, or sumac, soak their paws in the solution for up to five minutes.
Oatmeal Bath for Itchy Dogs
Oatmeal is an age-old remedy for our dry, itchy skin that happens to be safe for use on our canine friends too! In fact, most doggy hypoallergenic shampoos include oatmeal as an active ingredient to soothe and fight irritation.
Start by grinding plain oatmeal into a powder to sprinkle in your dog's warm bath. The oatmeal will typically take 10 to 15 minutes to cool down red, angry skin, no matter the cause. It is also nontoxic, so it's okay if your pet licks some off during their long bath. If this sounds like a long time for your pup to be in the tub without a struggle, try some of our techniques to Curb Bath Time Fears.
Another option to avoid a full-on bath is to make an oatmeal paste. Take your ground oatmeal and gradually add a little bit of water until you are left with a paste that has a spreadable consistency. Target spots that have been bothering your dog and make sure the paste is in contact with the skin on longer-haired dogs for maximum relief.
Sugar-Free Plain Yogurt
Feeding your itchy dog plain, unsweetened yogurt may offer many health benefits. Some yeast infections and skin irritation can stem from your dog's digestive system. This remedy is good for dogs who have certain types of rashes, hives, or allergies. Before you feed yogurt to your dog, be sure to check with your vet about the potential risks.
Feeding small dogs one teaspoon of yogurt and big dogs two teaspoons once a week will improve their overall gut health. Most dogs like the taste of yogurt on its own, but it can also be mixed with food to help digestion.
Coconut Oil for Itchy Dogs
If you have been asking yourself, "What can I give my dog for itchy skin if nothing else is working?" then coconut oil may just be the perfect remedy for your pup. Its high viscosity immediately soothes, while its other components help to calm the skin right away.
The best oils for dogs are those that offer the kind of viscous protection needed to create a natural barrier between angry skin and the environment. For this reason, coconut oil is among the best oils for canine skin, which is why so many products for pups use it as a key ingredient.
Many natural beauty products now contain coconut oil because of its antibacterial and antifungal properties. It is also an excellent moisturizer for canines, as the oils can penetrate fur for direct contact with the skin. Dogs who are suffering from eczema, allergies, yeast infections, and even insect bites and stings can all benefit from direct application of coconut oil.
Put coconut oil in the fridge or a cool, dry place so it turns completely solid. For quick relief to dry skin, massage the oil into the coat and on the skin of your dog. Over time, you'll notice your dog's coat improving, along with relief from constant itching!
Why Is My Puppy So Itchy?
If the dog experiencing severe itchiness is still a puppy and you have already ruled out any potential causes like diet and environment, you should visit a licensed veterinary dermatologist as soon as possible.
A veterinary dermatologist can run tests that general practitioners do not have the ability or equipment to handle in-house. Additionally, you have a better chance of getting to the bottom of your dog's itchiness faster with a specialist who can quickly recognize the root of the problem, whether it be food allergies, air quality, other environmental causes, or even psychological or behavioral issues.
The itchy dog home remedies noted above are safe for most dogs and skin issues. However, you should always consult your veterinarian before using any of these treatments on your pet. A proper diagnosis is key to providing the most effective treatment for your dog's itchy skin.
---
Take some of the stress out of unexpected skin conditions with Accident & Illness Coverage from AKC Pet Insurance (underwritten by Independence American Insurance Company). Our dog pet insurance plans are designed to be there when you need them, allowing you to focus more on the health of your pet and less on costly veterinary bills. Click here for a quote today!
 The information provided in this blog is intended for educational purposes only and should not serve as a substitute for the professional medical advice of a licensed veterinarian. Always consult your vet with any questions about your pet's health before initiating any treatment regimes.
FAQs
How can I soothe my dogs irritated skin?
Chamomile, calendula, and green tea have properties that soothe and cool irritated skin and reduce inflammation, making them great additions in a dog bath for itchy skin. These soaks are best for dogs who have hot, itchy patches of skin that are at risk of getting rubbed raw
What human creams are safe for dogs?
Neosporin® is a common topical antibiotic used on minor cuts and scrapes. This ointment is pretty safe in dogs and should be in every first aid kit.
Can I use human hydrocortisone cream on my dog?
Hydrocortisone products made for people are not recommended for dogs. There's a difference between your hydrocortisone topical and dog-friendly hydrocortisone cream. Human-grade hydrocortisone is not FDA-approved for animals and is not vet recommended to treat dog skin problems
Can I put Vaseline on my dog?
It's gratifying to know that you want to help your dog's skin issues by applying Vaseline to their cuts, scrapes, and wounds, but it's a completely synthetic material, and it's no good for them.
How can I treat my dog's skin allergy at home?
When combined with water and blended into a thick paste, baking soda can dry out rashes on the skin, alleviate itching, and reduce redness and inflammation. 7 All you have to do is combine 50 percent baking soda with 50 percent water and apply the paste to your dog's skin. After about 20 minutes, rinse completely.
Can I use Savlon cream on my dog?
Savlon Antiseptic Cream is not meant to be used on animals such as dogs, cats, rabbits etc. Sometimes vets will be able to supply a suitable antiseptic cream or ointment, however in many cases minor cuts will heal on their own.
Can I use Sudocrem on my dog?
Sudocrem. This can be used in dogs and cats in small amounts. Sudocrem contains zinc-oxide which is highly toxic to birds. Zinc-oxide is also toxic to dogs and cats if ingested in large quantities, but applying a thin layer of sudocrem to sore or irritated skin is generally safe and can be beneficial.
Can I put aloe vera on my dog?
Aloe Vera can be used as a topical remedy on your dog's fur and coat to soothe and heal your dog's itchy hot spots. Before you try to treat hot spots on your own, it is important to talk with your vet to determine the right treatment plan.
Can I Put Hydrocortisone on My Dog? – Daily Paws
Is It Safe to Use Hydrocortisone Cream on Dogs? Is Hydrocortisone Cream Safe to Use on Dogs? Here's What a Vet Says Learn if this medicated, over-the-counter skin cream can ease irritated, itchy skin on dogs like it does for people. On This Page Do you have an itchy dog? If your pupper has skin irritation that's making him miserable, you might have a quick fix in your medicine cabinet. You can use hydrocortisone cream on your dog in most cases. Like in people, it helps treat mild rashes, itchy skin, and bug bites in canines, too. But there are a few things you should know before using it, including how to safely apply it, why it's not a long-term solution, and when to avoid using it. Read on to learn more about this over-the-counter skin soother. Hydrocortisone is a steroid medication that reduces inflammation. It comes in cream and spray forms to apply to the skin. "It can decrease skin inflammation within 30 minutes of applying it and usually stops itching in one to two hours," says Lindsay Butzer, a veterinarian and spokesperson for pet-supplement company Zesty Paws. But she cautions that using steroid medications can also have a negative effect. "Steroids are a double-edged sword because they're good at decreasing inflammation and pain, but they also slow healing and suppress the immune system." Can I Put Hydrocortisone on My Dog? Hydrocortisone is generally safe to use on dogs. But if your dog is pregnant or has another illness, avoid using it until you consult with your veterinarian to make sure it's safe. Also, opt for the cream version, advises GoodRx. Hydrocortisone sprays and gels that contain alcohol can make pets sick if they lick them off. Other over-the-counter medications safe to use on canine skin include Neosporin—an antibiotic ointment—and Benadryl cream, a topical pain reliever. "Hydrocortisone cream is usually more effective than Benadryl cream," says Butzer. "But oral Benadryl can help with reducing inflammation in the affected area." If you decide to try oral diphenhydramine (Benadryl) for your dog's irritated, itchy skin, here's a safe rule of thumb for dosing: Give 1 to 2 mg of Benadryl per pound. For example, a 25-pound dog can have 25 to 50 mg of oral Benadryl. Note that this drug can cause drowsiness, especially at higher doses. Supplements developed for dogs may also help decrease inflammation in dogs with allergies, says Butzer. Look for ones that contain fish oil or turmeric. Common Uses for Topical Hydrocortisone in Dogs You can use hydrocortisone cream on dogs to soothe minor irritations like bug bites and small rashes. Vets often recommend it to treat skin allergies, inflammatory skin diseases, infections such as hot spots, and to help decrease ear inflammation in dogs with severe ear infections, says Butzer. How to Use Hydrocortisone on Dogs You can apply hydrocortisone cream to the affected area once or twice a day. But before you do, make sure it's not an open wound. The cream should only be used on mild wounds and abrasions with closed skin (or a scab). Apply the cream to the skin, not the fur, and wash your hands afterward. Keep your dog from licking the area for at least 30 minutes so the medication has time to sink in and start working to relieve discomfort. If your pooch does have an itchy scab, apply the cream to the surrounding skin but not directly on the scab, cautions Butzer. Moisture from the cream could break down the scab. Will My Dog Get Sick From Licking Hydrocortisone Cream? Some dogs are pretty persistent when it comes to scratching, gnawing, or licking an area that's bothering them. If your furry pal insists on licking the spot where you applied hydrocortisone cream, it may cause some mild symptoms, says Butzer, including: Increased hunger or thirst…
The Best Itch Relief For Dogs (Guide) – Dutch Pet
The Best Itch Relief For Dogs (Guide) | Dutch Every dog has its day, and some days can be itchier than others. Whether it's burrs from the lawn, bites from ants, or a full-on flea infestation, dogs often struggle with itchy skin. As you watch your furry friend scratch themselves nearly to shreds, you're probably wondering, what the best itch relief for dogs is.  The good news is that there are plenty of options—the key is just getting to the bottom of what's causing your dog's itching in the first place. In today's post, we'll explore the different causes of dog itch, what they mean for your dog's health, and what you can do to ensure that your dog is itch-free and living their best life.  Here's what we'll cover; use the jump links to navigate the article or read through to find out everything about itch relief for dogs.  Causes Symptoms Treatment When to see a vet Prevention Canine Itch Relief: Frequently Asked Questions Final Notes Causes Itching in dogs can be a sign of many different potential conditions, so if you see your dog scratching and scratching, be sure to note when and where they are scratching to help pinpoint the potential causes. In some cases, the cause may be mild enough that you can use over the counter soothing shampoos and other treatments to provide them relief.   In other cases, you may need to take your dog to the vet for a further assessment. Many bacterial infections, for instance, can produce itchy skin, and in some cases, you'll need antibiotics to get relief for your dog.    Here are some of the most common causes: Fleas. These tiny insects are infamous for their ability to cause cats and dogs tons of problems, especially sudden itchiness. If you suspect your dog has fleas or is prone to getting fleas often, it's a good idea to get seen by a vet. Unfortunately, many over the counter flea medications don't tend to work very well and the fleas return quickly. Dutch's network of veterinary telemedicine providers is happy to connect you and your pet with the pharmaceuticals you need to find itch relief.  Parasites. Fleas are just one type of insect that dogs struggle with. There are many types of parasites that dogs may develop through a weakened immune system or by spending time outside or interacting with other dogs. Depending on the type of parasite, your dog will need specialized medication to treat these pesky pests.  Allergies. Dogs can be allergic to environmental and dietary allergens, and itchiness is one symptom they may present if they are having a reaction. Some dogs may have an allergic reaction to fleas or other parasites, worsening itching. Bacterial Infections. Some bacterial infections are common in dog skin, often producing a round hairless crusted lesion that many people mistake for "ringworm". Other bacterial infections can present like "hot spots," or red moist, painful areas that are warm to the touch.  If your dog has a bacterial skin infection,  it's important to get them looked at by a vet as soon as you…
7 Natural Home Remedies for Itchy Dogs – The Spruce Pets
Discover 7 Natural Remedies to Soothe Your Dog's Itchy Skin When a trip to the vet isn't possible, you can treat a dog's itchy skin with a home remedy. Colloidal oatmeal baths, coconut oil, and baking soda are among the items you can use for home remedies. And though you can offer some relief and lessen the urge to itch, it's important that you eventually treat the underlying cause, whether it's an allergy, flea bites, or an autoimmune disorder. When Should You Call the Vet? Mild itching every now and then usually isn't a sign of serious health conditions, but if your dog starts to develop other symptoms like frequent or persistent itching or licking, difficulty getting comfortable or restlessness from itching, loss of appetite, or a depressed mood talk to your vet ASAP. It's important to treat the underlying cause of its severe, chronic itchiness to avoid developing more open wounds and infections in the skin. Depending on the cause, your vet will treat as appropriate. If your dog's itchiness is occasional or mild, however, there are plenty of totally safe, all-natural ways to treat occasional or mild itching at home. In fact, you probably already have most of the remedies in your pantry. Read on for seven simple remedies that can give your itchy pooch some real relief. Consult your vet before starting any skincare regimen for your dog, and stop the treatment if your dog's symptoms remain the same or worsen. Colloidal Oatmeal Baths This age-old remedy isn't just an old wives' tale—a colloidal oatmeal bath can seriously soothe your dog's itchy skin by reducing inflammation and washing away allergens that get trapped in the fur. Whether you buy pre-made colloidal oatmeal (it's produced by grinding the oat into a fine powder and boiling it to draw out the colloidal) or grind plain, sugar-free oatmeal into a powder yourself, colloidal oatmeal's anti-inflammatory properties can ease redness, swelling, and itchiness, and cool your dog's hot, uncomfortable skin. What's more, oatmeal is totally non-toxic, so you don't have to worry if your dog gets a lick. Apple Cider Vinegar Sure, apple cider vinegar is a tasty ingredient in homemade salad dressings, but did you know it can be used as a powerful antibacterial and anti-fungal treatment, too? Simply combine a mixture of 50 percent apple cider vinegar and 50 percent water in a clean spray bottle, then spray your dog's itchy spots with the solution. If your dog's paws are irritated, you can use the mixture for a nice, relaxing paw soak for up to five minutes. Warning Apple cider vinegar should never be used on raw skin or open wounds—it can be extremely painful for your dog and worsen symptoms. The Spruce / Almar Creative Coconut Oil Although there's been some controversy around coconut oil and heart health, chilled, solidified coconut oil can soothe the discomfort associated with doggy eczema, allergies, skin infections, and even bug bites when massaged into the coat and skin. When you're shopping for coconut oil, try to find the highest quality, human-branded coconut oil available—look for terms like "organic," "unrefined," or "virgin" on the label. And if you want your coconut oil to do double duty, you can also try mixing a small scoop into your dog's kibble, but you should always consult your vet before changing up its diet. Chamomile and Green Tea Soaks Chamomile and green teas are well-known for their soothing, anti-inflammatory effects in humans—but they work just as well for dogs, too. If your dog is dealing with hot, itchy patches of skin, try giving it a soothing soak in a chamomile or green tea bath. Here's how to do it: Fill your bathtub or sink…
5 Natural Remedies to Help Your Itchy Dog
5 Natural Remedies to Help Your Itchy Dog You know the sounds–they've kept you up at night. The scratching, the licking, the chewing. Your dog is itching like crazy and it's driving you both up the walls! Chronic or severe itching and scratching in dogs can have many causes. Whether you've been asking yourself, "Why is my dog so itchy?" for a few days or for a few weeks, it's time to get some answers. That's why we created this list of natural remedies for itchy dogs! Before you check out the list, keep in mind that some dogs may require a checkup by a licensed veterinarian for severe itching issues. If the itching your dog is experiencing has been ongoing or if your dog is developing self-inflicted wounds due to itching, it's time to visit the vet! Chamomile and Herbal Tea Soaks Chamomile, calendula, and green tea have properties that soothe and cool irritated skin and reduce inflammation, making them great additions in a dog bath for itchy skin. These soaks are best for dogs who have hot, itchy patches of skin that are at risk of getting rubbed raw. If your dog is inconsolably itchy all over, fill up your tub or sink with warm water and let several herbal tea bags steep for three minutes. Remove the tea bags and let your dog soak in the bath for at least five minutes. Alternatively, for smaller, itchy patches, steep one or two tea bags in about two cups of hot water. Once the tea has cooled down, pour it on your dog's skin as a quick fix, letting it drip dry without rinsing. Apple Cider Vinegar for Itchy Dogs Apple cider vinegar is a natural, safe soother for especially dry, itchy skin. The antiseptic and antifungal nature of apple cider vinegar makes it a great form of relief from poison ivy but NOT on raw or opened skin. If your dog has itched their skin raw, this solution will sting the exposed wound. To avoid getting vinegar in any open cuts, fill a spray bottle with 50% water and 50% apple cider vinegar to target affected areas. If your dog walked through a patch of poison ivy, oak, or sumac, soak their paws in the solution for up to five minutes. Oatmeal Bath for Itchy Dogs Oatmeal is an age-old remedy for our dry, itchy skin that happens to be safe for use on our canine friends too! In fact, most doggy hypoallergenic shampoos include oatmeal as an active ingredient to soothe and fight irritation. Start by grinding plain oatmeal into a powder to sprinkle in your dog's warm bath. The oatmeal will typically take 10 to 15 minutes to cool down red, angry skin, no matter the cause. It is also nontoxic, so it's okay if your pet licks some off during their long bath. If this sounds like a long time for your pup to be in the tub without a struggle, try some of our techniques to Curb Bath Time Fears. Another option to avoid a full-on bath is to make an oatmeal paste. Take your ground oatmeal and gradually add a little bit of water until you are left with a paste that has a spreadable consistency. Target spots that have been bothering your dog and make sure the paste is in contact with the skin on longer-haired dogs for maximum relief. Sugar-Free…
The Best Itch Relief (Anti Itch) Products for Your Dog in 2022
The Best Itch Relief (Anti Itch) Products for Your Dog in 2022This post may contain affiliate links to our partners like Chewy, Amazon, and others. Purchasing through these helps us further the A-Z Animals mission to educate about the world's species..Just like humans, dogs can get itchy, dry skin. While nothing beats scratching at a pesky itch, the effects it has on your pooch can do more harm than good. Here at A to Z Animals, we understand that Fido could be suffering from fleas, dry skin, or even a food allergy. As pet parents, it's our job to find out what's causing the irritated skin and find a solution to put them at ease. It's best to make an appointment with the vet to get to the underlying issue and fix the overall problem.In the meantime, we've found some of the best itch relief products for dogs. As a bonus, we've included natural remedies that are shown to help, as well as a convenient buyer's guide so you know exactly what you should be looking for! What Causes Dogs to Itch?Itchiness in dogs can indicate a variety of conditions, so if you notice your pup scratching and scraping, make a mental note of where and when they itch to help narrow down the causes. In some circumstances, the cause may be minor enough that you can relieve them with over-the-counter calming lotions and other therapies. In some circumstances, you might have to bring your furry friend to the veterinarian for a more thorough examination. Many bacterial diseases, for example, can cause itchy skin, and in some situations, prescriptions will be required to provide relief for your dog.FleasThese little insects are notorious for causing a slew of issues in cats and dogs, including acute itching. It's a good idea to see a vet if you believe your dog has fleas or is susceptible to getting fleas frequently. Sadly, many over-the-counter flea medicines are ineffective, and fleas come back. This is why it's essential to have regular trips to the vet. Bacterial InfectionMany bacterial diseases affect the skin of dogs, resulting in a round, bald crusty sore that many people confuse for ringworm, hot spots, or red, wet, painful patches that are warm to the touch, which is a symptom of other bacterial illnesses. If your dog gets a bacterial skin infection, you should see a veterinarian as soon as possible.Parasites Fleas are only one of the insects that dogs have to deal with. Dogs can contract a variety of parasites as a result of a weaker immune system, having fun outside, or socializing with other dogs. Man's best friend will require specialist medication to remove parasites, regardless of the type of parasite.Yeast InfectionA yeast overgrowth on the skin can make your dog incredibly itchy. Malassezia is the yeast that causes the most frequent yeast infection. Persistent yeast infections can cause the skin to darken and thicken, giving it an elephant-like appearance. Because yeast infections take time to heal, it's important to work with a veterinarian to manage them until they're entirely gone. Let's take a look at four products that can help take the itch away! 1. Overall Best: Veterinary Formula Clinical Care Hot Spot & Itch Relief SprayAfter plenty of research, we've found that the overall best anti-itch product for dogs is…
Anti-Inflammatory Cream for Dogs – Hemopet
Anti-Inflammatory Cream for Dogs | Hemopet Bugs have been out in full-force this summer! Whether they are simply swarming or actually biting, they can be aggravating. To seek relief from the itchiness caused by bug bite inflammation, you might desperately grab calamine lotion or some other anti-itch cream. For humans, calamine lotion is fine. For pets, it is not recommended. Just like human sunscreens, calamine lotion contains zinc oxide, which can damage a dog's red blood cells – causing them to rupture, then leading to anemia and even vomiting and diarrhea. Another over-the-counter (OTC) cream we saw contained zinc acetate, which should be used cautiously to avoid zinc toxicosis. It is strongly recommended to avoid rubbing zinc-containing products on your dog (or cat) or allow your pets to lick your skin where you applied these products. Zinc is an essential mineral for companion dogs that is best obtained through food. However, dogs have a propensity to lick or chew topicals, which may lead to zinc toxicosis. What Can I Use to Control Inflammation and Itchy Skin on My Companion Dog? W. Jean Dodds and Hemopet recommend calendula creams or oils. Calendula is an anti-inflammatory that calms itchy, inflamed skin. Calendula can be used for: Minor cuts and wounds Bug bites Scrapes Chafing Minor burns and sunburn Eczema, psoriasis, dermatitis, etc. Don't Grab Just Any Calendula Cream Some OTC anti-inflammatory creams that contain calendula also contain hydrocortisone. It is recommended to avoid hydrocortisone on your companion pet because cortisone overdosing can cause increased thirst, urination, panting, vomiting and diarrhea. Find Out the Underlying Cause In this article, we have focused on relief from bug bites. Clearly, calendula can help with many types of skin inflammation throughout the year. If your companion dog is not only itching because of the occasional bug bite, you should have him tested for seasonal and environmental allergies, as well as for food sensitivities. For food reactivities, we suggest our NutriScan Food Sensitivity and Intolerance Test that tests saliva. For the other causes, we suggest blood/serum allergy or skin patch testing, although the latter can be unsightly. Just like newer Apoquel and Cytopoint products for itchy skin, calendula is not a cure, but relieves a symptom of a larger underlying cause. Also remember, there are no surefire cures for allergies or food sensitivities in dogs and avoidance of and identified allergens is an essential component of case management. Now, you may have recently heard of food immunotherapy for affected humans. However, food desensitization via this form of immunotherapy is not recommended by veterinarians for dogs or cats and is not available on the market. We opt for the more traditional protocol of avoidance. Yes; allergen-specific immunotherapy (ASIT) and sublingual immunotherapy (SLIT) for environmental allergies in companion dogs is available. However, the success rate for ASIT to alleviate symptoms is approximately 60-80% and SLIT has been around 60%. In our opinion, the success rates should be higher and ultimately this demonstrates that either the wrong antigens are being targeted, the testing method is flawed, or the dosage is off. Can I Use Bug Spray on My Companion Pet to Avoid Itchy Bug Bites? You can use all-natural bug repellants on your companion pet. Bug Soother is one that comes to mind. However, only use them if the manufacturer states the product is safe for pets. We recommend the additional assurance that the all-natural bug repellant can be used on human adults and children. Most importantly, make sure the bug repellant does not contain DEET or other harmful chemicals. Mosquitoes, Fleas and Ticks Using all-natural bug repellants help reduce the amount of itchy bug bites you and your companion dog might incur. However, no bug repellant is 100%. Mosquitoes Hemopet recommends giving prescription heartworm preventatives year-round if you live in the Southern or other high risk areas of the United States. In other parts of the country and Canada, the temperature needs to be above 57 degrees for approximately two weeks and mosquitoes should be prevalent before starting these preventatives, but then, only after your pet had…